Hands-on Manual Therapy Techniques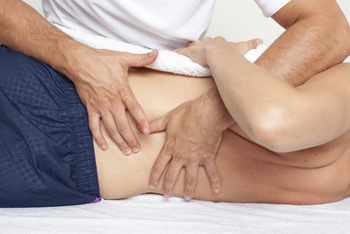 We utilize the most current manual therapy techniques. These are specialized skills performed on nerves, joints, and muscles that are used to treat orthopaedic and neurologic conditions.  These hands on methods are applied to the affected areas of your body to eliminate pain, relax muscles that are tight or in spasm, restore active range of motion, improve flexibility and restore your function.
Depending on the assessment and situation of each patient, our therapists may perform some or a combination of the following types of manual physical therapy:
Soft Tissue Mobilization
Strain-Counterstrain
Scar Mobilization
Joint Mobilization
Myofascial Release
Muscle Energy Techniques
Edema Management
High Velocity, Low Amplitude Thrusting
Manual therapy is typically part of a complete treatment plan that is customized for your specific needs.
We accept and participate in all private and commercial insurance, major medical, Medicare, Worker's Compensation and Motor Vehicle Insurance. We take care of all insurance verifications, authorizations and pre-certifications for worry free visits.